It's not as easy as you think.
Throughout the past two years or so, I've been undergoing laser tattoo removal. It hasn't been two years of consistent treatments as I've taken breaks – some out of frustration and some to allow my skin to heal – but after seven treatments, it's still there. Here's a breakdown of the process, stories of all three of my tattoos (I'm only trying to remove one and you'll see why!) and before and after pictures.
Here's the story behind my first tattoo...
I turned 18, and one of the first things I decided to do my freshmen year of college was get the Dave Matthews Band fire dancer symbol tattooed onto my lower back. You're probably laughing right now, but the music has and always will light up my soul. When I was young, I was a "bandaid," (if you didn't see Almost Famous, I highly recommend it). I traveled with the band, always had backstage passes and often times got to sit in the sound pit at shows. Even though my experiences with the band have changed (growing up sucks), my love for the sound remains – along with my faded fire dancer tattoo.
And then the dreaded second...
About a year after getting the fire dancer, I accompanied my friends to a tattoo parlor for moral support and ended up getting my second. This time, I let my friends pick one out for me and decided to get it without seeing it. (Nineteen and dumb.) Once the buzzing stopped, I looked to find what my friends said was a princess crown they designed specially for me. This was my biggest college regret and it's haunted me ever since.
The removal process begins...
Fast forward to 2014, 8 years a beauty writer and I was invited to try Cynosure's PicoSure, a popular aesthetic laser for tattoo removal (testing out new skincare treatments is one of my favorite parts of my job). Dr. Jeremy Brauer (who at the time was at the Laser & Skin Surgery Center in NYC) was just as determined as I was to get rid of it. Within three months, I had three treatments. I was beyond impressed with how much color was removed after my first. All of the red and purple was gone and mostly all of the black, however the yellow remained. After my second and third treatment, the black outline continued to fade into a deep green, but the yellow was super stubborn. Frustrated, that's when I decided to take a break and forget about my tattoo for a while.
Here are images of progress with PicoSure.
Of course, the lighting isn't controlled and they're not professionally shot, but you get the deal.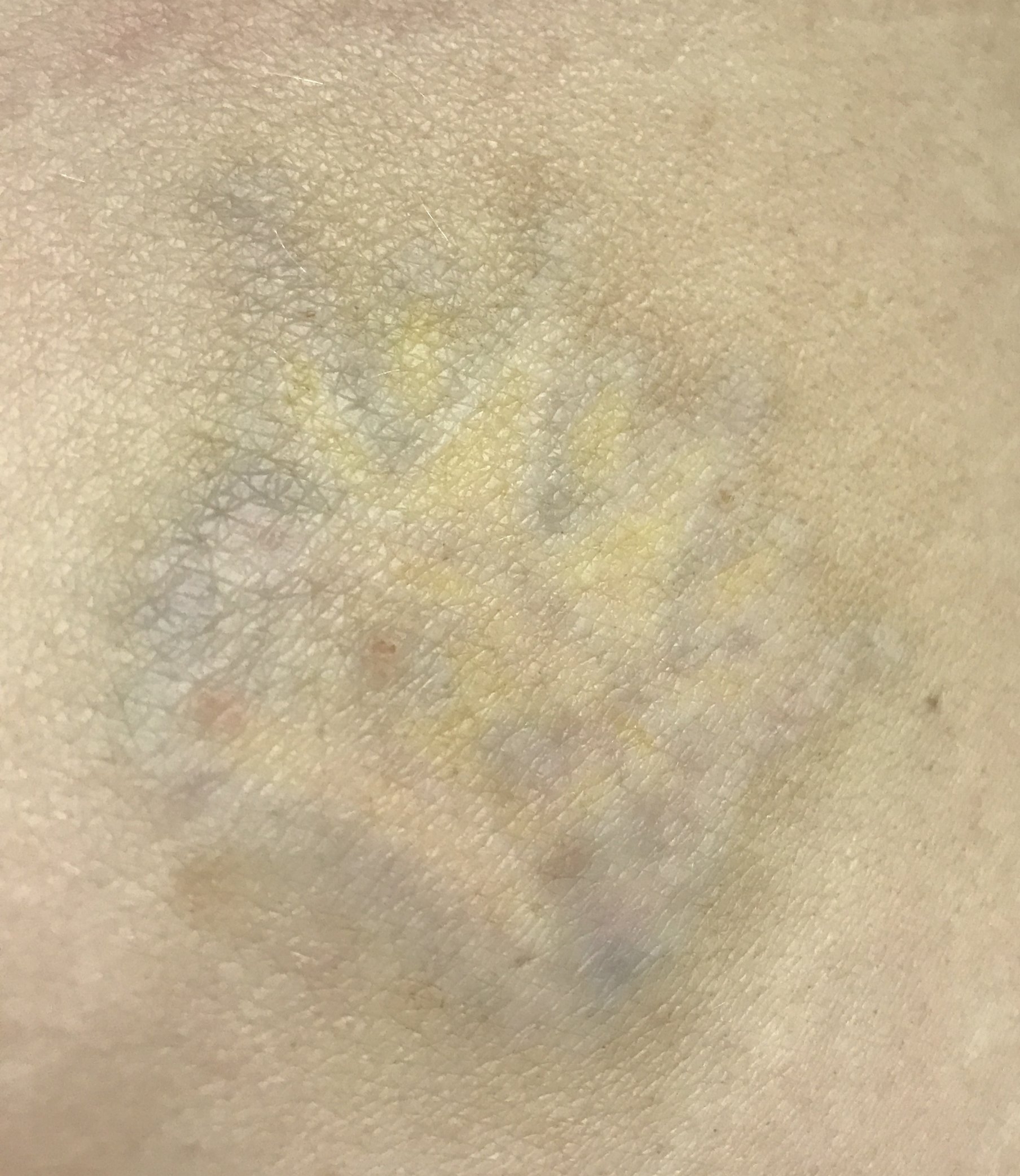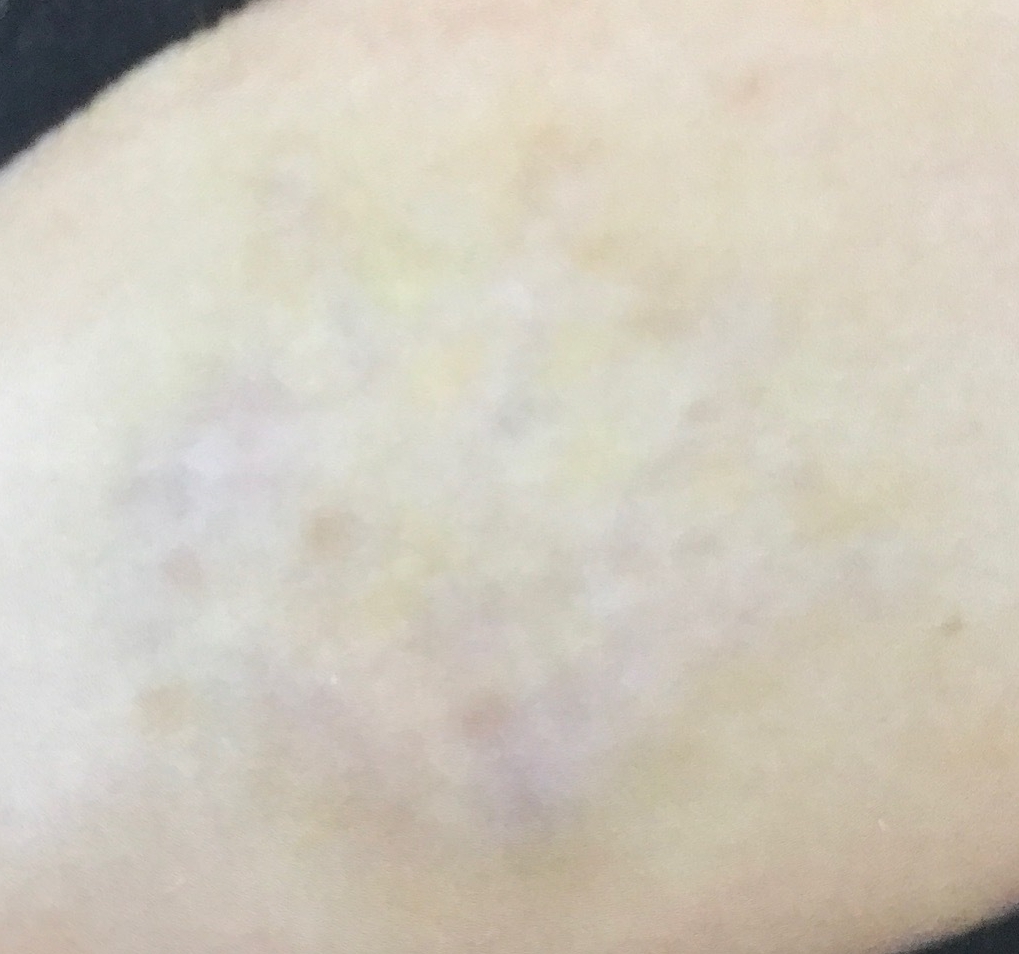 I started back up with Dr. Brauer again in March of 2017. He's one of the smartest derms I've ever met in my 10+ career in beauty so I was excited to continue this process with him. PicoSure has a new wavelength that he promised would get rid of the rest of the pigment and a new product called DeScribe, a patch that assists with laser tattoo removal, would help with efficacy.
I've had seven treatments total to date and it's still not gone. I'm very fortunate to be able to try treatments like this without paying for them, but I can't imagine how much money I would have spent already on the removal process if I wasn't a beauty editor.
So here I am, seven treatments in and taking another break. Yes, it's very faded, but the yellow still haunts me. I'm not sure when I'll pick up treatment again since it's a bit time consuming and I'm left with blistered skin for a few days after, but I do hope to one day get rid of this mistake.
Oh, and about my last and favorite tattoo...
Besides my fire dancer, this one's another keeper. You may have noticed that I have a butterfly on my inner right wrist (sometimes producers make me cover it up when I'm on TV.). It's my most special (and last) tattoo. My best friend and I went to a tattoo parlor in the East Village after moving into the city together post college. I designed this butterfly, because I love that they stand for new beginnings, rebirth and evolution. Now, not only is it a permanent accessory, but also a constant reminder to flourish.
So if you're asking would I recommend you try tattoo removal the answer is yes, but you should know that it's not easy and no matter what colors your tattoo is, it will take several treatments. I'd recommend going to a dermatologist for a consultation to find out about how many treatments you might need, if they sell packages and how much the total removal might cost. Also, make sure they use several different lasers for tattoo removal as some remove certain colors better than others and it might take a combination.